8 primary warning signs of vein disease.
If you suffer from one or more of these symptoms, speak with a clinician about your vein health.
1. Tired, heavy feeling legs. One of the first signs of vein disease is your legs feeling chronically heavy and tired in the evenings. This is a clear indication that the return of blood flow from the legs to the heart is impaired.

2. Leg pain from prolonged sitting or standing. The muscles in your legs plan an important role in massaging the veins and helping them pump blood. During long periods of sitting or standing, when the muscles are at rest, blood may collect in the ankles and legs. Your leg veins stretch easily and may become enlarged by the pressure of this pooled blood. This can turn into a dull aching pain.


3. Swollen ankles at night. Thick, swollen ankles are clear signs that blood or other fluid is congested in the leg and/or leg veins. Over time, damaged vein walls can become even more stretched out and permeable, allowing fluid and protein to filter from the veins into the surrounding leg tissue, which causes the swelling.


4. Varicose or spider veins, especially during or after pregnancy. One of the main factors contributing to vein disease is pregnancy. During pregnancy, the amount of blood greatly increases throughout the body to almost double the normal volume, thereby stretching leg veins far beyond their normal capacity.


5. Tingling, numbness, burning, or cramping in legs and feet. Vein disease can cause serious circulation problems, meaning that your lower legs and feet may not be getting the oxygen they need. This can result in unpleasant sensations and cramping occurring more often than usual.


6. Discoloration of the skin. Over time, leakage of blood into the area surrounding the veins can cause tissue to die. The resulting pooling of blood in the tissue causes a darkening of the skin.


7. Open sores or ulcers on the lower leg. When Chronic Venous Insufficiency (CVI) reaches its most serious point, ulcers may appear on the lower leg. These are the result of blood leaking into leg tissue and damaging the skin.


8. History of vein problems in the family. Having a hereditary disposition towards vein disease means that you are at a higher than average risk. The earlier you take precautions and treat the problem, the better chance you have of avoiding serious complication.


duomed compression stockings can help you.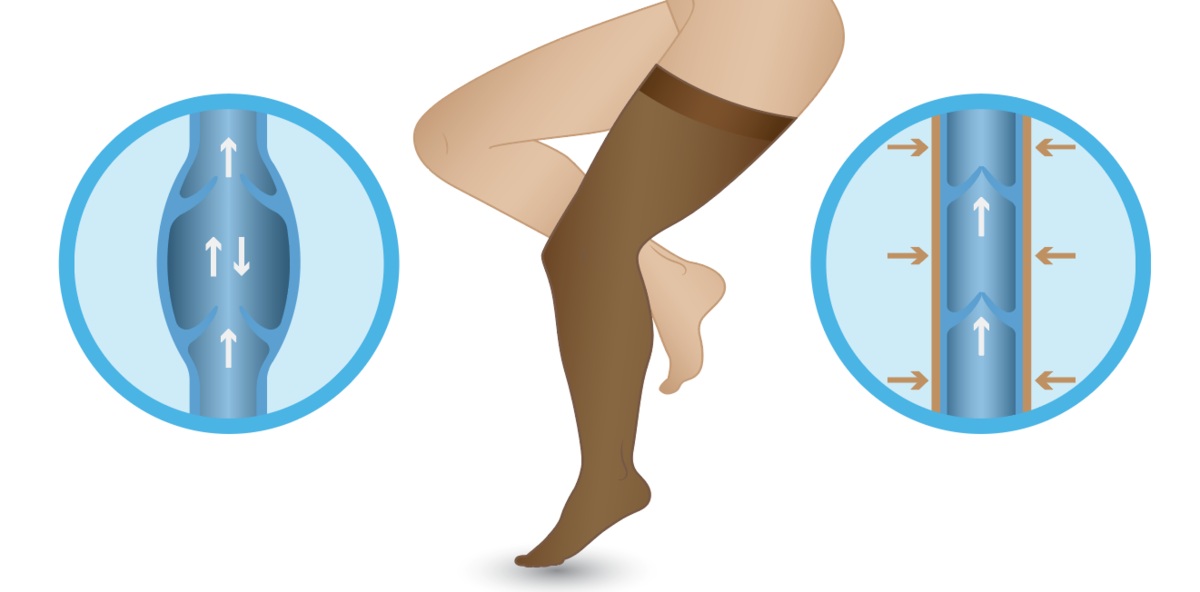 STRETCHED VARICOSE VEIN WITH INCOMPETENT VALVES AND REFLUXING BLOOD
COMPRESSION STOCKINGS SUPPORTING THE STRETCHED VEIN AND INCOMPETENT VALVES
Medically accurate compression stockings push the dilated vein walls back into place and help them "pump" the blood throughout your body more efficiently. As a result, blood flow is increased, which reduces swelling, fatigue, pain, and the possible formation of blood clots in the leg.
FIND A CERTIFIED DEALER